Offer
Every Belgrade Card owner has 10% discount on Kafeterija in-house products & weekly promo actions.
Please contact the attraction location for reservations, working hours and to check if there any specific covid-19 restrictions in place.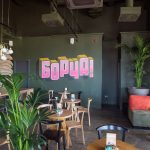 Website https://twitter.com/kafeterijabg?lang=en Kafeterija
This Kafeterija is located in the new shopping center Stop Shop on the way to Zrenjanin. It is a well-known place for rest after shopping, as well as a neighbors first place for morning coffee with friends or family.
Every Kafeterija has specific design, this one contain ground level and garden.