Offer
Get 10% discount for Lunch (12h-18h) Tuesday – Friday. For all other times get 5% discount with Belgrade Card.
Reservation required.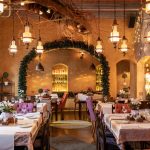 Website Restoran Šaran - Slash Pro D.o.o.
Fish specialties, River and seawater fish prepared the traditional way, grilled using wood and briquettes
Restaurant "Saran" is the soul of Zemun and represents the true modern fishermen's spirit of Zemun.
Fish specialties, River and seawater fish prepared the traditional way, grilled using wood and briquettes
Special needs:
Smoking and non-smoking sections, Kids-friendly, pet-friendly
Buses: 17, 45, 73, 83, 84, 88, 610