Offer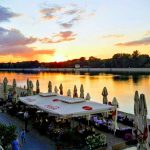 With a tradition of more than 20 years, Sunset has become a true pearl amidst the restaurants of Ada Ciganlija, one of the longest beaches on the artificial lakes in Europe.
Its authentic visual identity enchants with its liveliness. The interior exudes a natural ambience full of details, spontaneity, and joy of life. Over time, Sunset has become a recognizable brand that carries all those emotions, and experiences that, for a reason, make guests feel at home and always happy to return.
In a warm and charming atmosphere, the restaurant, with its team of superb chefs, combines the specialties of local and international cuisine into an exceptional gastronomic experience.
The complex provides the possibility of all-day entertainment for the whole family. Toddlers enjoy the attractions of "Pirate City" including a sand playground, seesaws, swings, and other adventures. The park is completely fenced, and its tartan floor ensures children's safety, which makes parents and children love it.
Lake side Patio and Garden