Offer
Get free entrance to the museum with the Belgrade Card.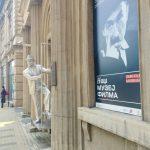 The Yugoslav Film Archive was founded in 1949 and is one of the five most significant film archives in the world. The new administrative building of the Yugoslav Film Archive, located in a renovated building founded in 1846, was opened to the public in 2014. Inside the beautiful interior, you can find cinema halls, a permanent museum exhibition, a specialized library, and the directorate of the Film Archive.
The permanent exhibition, called "Our Film Museum," represents a synthesis of the remarkable achievements of film creation and the rich collection preserved in the Archive of the Yugoslav Film Archive.
The exhibition encompasses valuable exhibits from the prehistory and history of film, with special attention given to the development of domestic film art. Visitors can explore various periods and aspects that are significant in terms of technology and artistic expression in the development of cinematography until the end of the 20th century, spanning through 28 exhibition units.
The oldest exhibited items date back to the 19th century, including the exceptional Imperial Panorama (Keiser Panorama) and the first camera by the Lumière brothers. The greatest value of the Film Archive lies in its nitrate film collection and the collection of Serbian films, totaling over 100,000 copies.
The nitrate collection consists of over 10,000 copies produced between 1896 and 1953 when films were recorded on highly flammable film stock. Some of these copies are unique and were long considered lost. A few years ago, the Film Archive discovered the only existing copy of the Italian film "La Vampira" from 1916 in the nitrate collection. In preparing a new copy, the Film Archive collaborated with archives in Bologna and Turin.
The oldest preserved film shot in Serbia is the documentary "The Coronation of King Peter I Karađorđević" from 1904. The first Serbian feature film, "The Life and Deeds of the Immortal Leader Karađorđe," was filmed in Belgrade in 1911 and rediscovered in 2003 at the Austrian Film Archive in Vienna.
The multimedia exhibition includes selected excerpts, film music by local composers, a part of the rich poster collection, photographs, documents, and other accompanying materials. The exhibition also features items from the legacies of renowned filmmakers such as Charlie Chaplin, Karl Malden, Ljubiša Samardžić, Pavle Vuisić, Velimir Bata Živojinović, Milena Dravić, Dragan Nikolić, Živojin Pavlović, and others.
Tram: 2,11,13
Bus: 22L, 26, 27, 27Е, 31, 32Е, 35, 37, 43, 44, 96
Trolley: 29, 41