Offer
Get a free entrance to the museum with the Belgrade Card.
The Aviation museum is temporary closed for renovations!
Please contact the attraction location for reservations and working hours.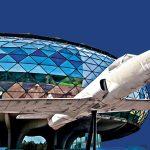 The Aviation Museum show cases many well-known types of airplanes and helicopters produced from the fifties to the eighties of the last century. Certainly the most interesting part of the exhibition are parts of the famous "invisible" bomber F-117 and fighter F-16, as well as unmanned aircraft that were shot down in the 1999 war.
The Aviation Museum has a rich collection of aircraft that ranks among the leading museums of its kind in the world. Some of the aircraft are among the rare or only surviving examples, such as, Messerschmitt, Spitfire, JAK-3, Fiat G-50, Caravella, Lightning and unique items of the national aviation industry. Annually, the Museum is visited by about 50,000 visitors, which ranks it among the leading museums in the country.
Already at the entrance to the main exhibition floor, visitors are greeted by a 1909 archaically looking airplane that was designed and built by the aviation pioneer Ivan Sarić from Subotica, Serbia. Presented are aircrafts that played a key role in the battles fought in Europe, Asia, Africa, and also fought as part of Yugoslav combat units.
Thousands of books, artefacts and documents testifying to aviation history are kept in the depots, library and archives of the Museum, so it is not surprising that many national and foreign experts declare the Aviation Museum a treasure of history.
The Aviation Museum is part of the Department for Tradition, Standard and Veterans of the Serbian Ministry of Defense and is a representative cultural institution located in a building with the status of a cultural heritage.