Offer
Free admission with the Belgrade Card!
Please contact the attraction location for reservations and working hours.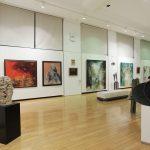 Website Zepter Museum
The Zepter Museum is registered as the first private art museum in Serbia. Its collection comprises of more than 600 works of art by over 200 artists, created in Serbia during the second half of the 20th century and at the beginning of the new millennium. The collection includes paintings, drawings, pastels, sculptures, and installations. The permanent display is conceptually designed on three floors.
The upper floor reflects continuities of inter-war painting with the famous Serbian painter Petar Lubarda as the precursor of the New Art. Some aspects of narrative, expressive and poetic figuration, as well as examples of art from the 1980s and 1990s, are also displayed. The December group is presented on the ground floor, along with informel and the Mediala group, and on the lower floor new developments and inquiries in informel, figurative expression, spatial relations and poetics of objects are exhibited.
You can admire artworks by members of the Serbian Academy of Sciences and Arts, the most representative cultural institution, as well as professors from the Faculty of Fine Arts, the Faculty of Applied Arts in Belgrade and the Academy of Arts in Novi Sad. They all have formed and are forming younger generations and works of art by a constellation of young people, those who will soon enter the history of Serbian, and perhaps also European art.
The museum is located in a beautiful building in the city center, in the pedestrian zone of Knez Mihajlova street. Not only will you have the opportunity to appreciate the art, you will also be able to admire the beautiful architecture.
If you are planning your trip to Belgrade, make sure to add the Zepter Museum to your itinerary. You won't regret it.
With the purchase of the Belgrade Card you have free access to the Zepter Museum!
Bus: 22, 26, 27, 31, 37.
Trolley: 28, 29, 41.