Offer
Free lunch for two people when renting Nimbus 3100 for over 2 hours
10% discount on certain boats advertised on the Belgrade Boat Rental website belgradeboatrental.com
Please contact the attraction location for reservations and working hours.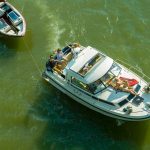 Belgrade Boat Rental offers a wide range of boats and other types of vessels for rent in Belgrade, Serbia, tailored to the yours needs.
You can rent a yacht, a speed boat, a sailing boat, a fun boat, a kayak or any other type of vessel to discover Belgrade's rivers – Danube and Sava!
We also offer fishing tours, water sports and river accommodation on rafts houses and river houses.