Offer
Every Belgrade Card holder has 10% discount on Kafeterija in-house products & weekly promo actions.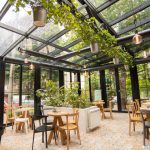 This Kafeterija is definitely one of the most beautiful place with a garden in the city. The location is tucked in the center of Banovo Brdo and it is a great choice for first morning coffee, breakfast or lunch with friends, family or business meetings.
Every Kafeterija has a specific design, this one contains ground level, gallery and pleasant garden.
Trams: 12, 13
Buses: 23, 37, 49, 51, 52, 53, 58, 85, 88