Offer
Get a free digestive or coffee when you order a main course!
Please contact the attraction location for reservations, working hours and to check if there any specific covid-19 restrictions in place.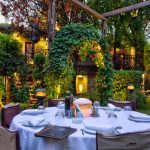 Website Restoran Frans d.o.o.
Tradition, taste, quality and great memories!
Tradition, taste, quality and great memories!
Welcome to Frans, restaurant that creates fine gastronomy in hedonistic and cozy atmosphere.
We focus on premium ingredients, chosen with care. Our cuisine is founded on the freshness of the ingredients and flawless processing. All dishes are prepared at the time of order, without preservatives, chemicals, processed materials and powders. Ingredients that are not thermally processed in the restaurant, are tested in our own laboratory on daily basis. Our seafood menu is fresh, coming from a network of fisherman on the Aegean, Adriatic and North Seas, with a special tag stating the date and the place of the catch. Our signature is recognizable on meat dishes, that are grilled on charcoal. We search for unique ingredients and we use only biological products, with excellent quality and origin. Our bread is baked every day in the restaurant bakery, without any additives as our desserts which come from our own pastry, with season fruits or fruits that were frozen at the restaurant.