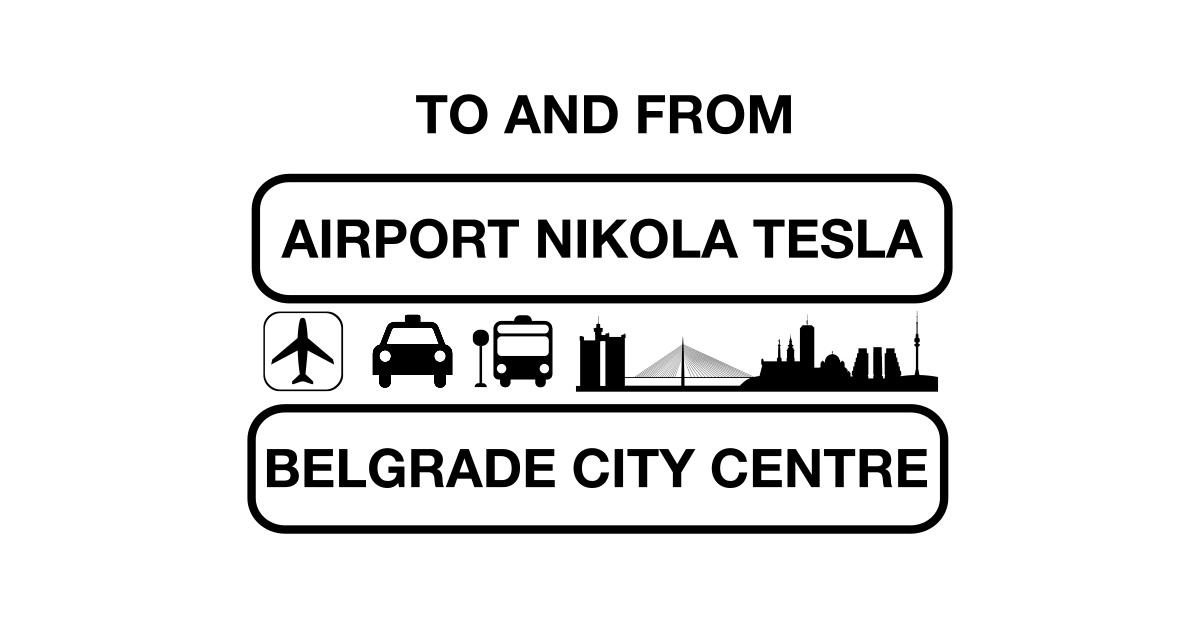 Getting to and from Belgrade Airport Nikola Tesla (Bus, Taxi)
Getting a taxi to and from Belgrade Airport Nikola Tesla
Unfortunately, Belgrade is known for taxi scams especially getting into one at the Belgrade Airport. To avoid any unpleasant situation you should buy a voucher for taxi transport, which is located in the international arrivals area. Look for the booth with a large sign TAXI. Tell them where you want to go (name of the hotel or address) and according to the destination they will hand you out a voucher with the exact price for which you will officially pay for the ride once you get to your destination. The prices vary between RSD 2300 (~20 EUR) to RSD 3000 (~25 EUR) depends whether you are going to Novi (New) Belgrade or to the City center.  
On the day of you departure make sure to book a taxi by calling one of the below taxi services.
Main Taxi Associations in Belgrade:
ALO TAKSI, (+381)3564555, (+381)19988
ALFA TAKSI, (+381)19807
BEOTAKSI, (+381)19999, (+381)19700, Viber i WhatsApp: (+381)66460101, SMS (+381)9700, Skype: radiobeotaxi
BEOGRADSKI TAKSI, (+381)19801, (+381)0800-11-98-01
BG TAKSI, (+381) 19800
BELL, (+381)19808
BEONAKSIS, (+381)19804
DELUKS TAKSI, (+381)3033123, (+381)653033123
EVRO GOLD, (+381)19806, (+381)655559806, (+381)653291818, (+381)65980-6000, (+381)604040677, (+381)691119806
ŽUTI TAKSI, (+381)19802, (+381)666305555, (+381)659802000
PINK, (+381)19803, (+381)654889977
Using a bus to and from Belgrade Airport Nikola Tesla
Due to the construction of Belgrade International Airport Nikola Tesla, the bus stations are frequently moved. Once you arrive in Belgrade, get your luggage, clear customs and head to the floor above without leaving the building. Ask a local where the bus station is located.
Tickets can be purchased in the bus. Make sure you have local currency. In the arrival area of the airport you can find many ATM's where you can get Serbian dinars RSD.
Public Transportation Bus Line 72
Route: 30 stops from Airport to Zeleni Venac Square
Ticket price: RSD 89 (if purchased on the kiosk), RSD 150 (cash only on the bus) more info
Approximate travel time: 45‒60 minutes
Public Transportation Bus Line 607
Route: 12 stops from Airport to New Belgrade
Ticket price: RSD 89 (if purchased on the kiosk), RSD 150 (cash only on the bus) more info
Approximate travel time :30 minutes
A1 Shuttle Bus
Route: 2 stops from Airport to Slavija Square (Kralja Milutina Street)
Ticket price: RSD 400 (cash only on the bus)
Approximate travel time: 30 minutes